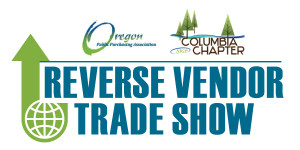 What is it?
The Reverse Vendor Trade Show (RVTS) is an event that allows suppliers, consultants, contractors, etc. the opportunity to meet with procurement professionals from numerous governmental agencies at one time. The governmental agencies man booths or tables and suppliers roam the trade show floor to meet with individuals from each of the entities during a specified period of time. Once again OPPA and Columbia Chapter are jointly sponsoring the show.
When is it?
The 11th Annual Reverse Vendor Trade Show will be held October 12, 2017. The Show runs from 10:00 a.m. – 3:00 p.m. Early open for sponsors at 9:00 a.m. Lunch will be served to Agency members and vendor-sponsors from 11:30 a.m. to 1:30 p.m.
2017 RVTS Vendor Registration – Deadline to Register as a sponsor and to submit artwork is September 21, 2017 in order to be included in the 2017 RVTS Member Directory.